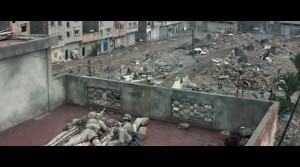 American sniper in position
Clint Eastwood made a new movie, a patriotic Western in the Wild East. America loves both – director and film.
According to the New York Times, a "sand movie" is the term for an Iraq or Afghanistan war movie. Clint Eastwood, Hollywood's by now oldest and most trusted hand for a Western, could not stop himself from making a Western in the Wild East. I saw it last Sunday afternoon together with half of America and now I know what the term means.