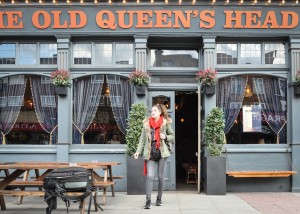 What do the subjects of her majesty really think about her? A pub crawl through the pubs with the Queen in the name.
Text: Tessa Szyszkowitz, Photos: Alex Schlacher
Before they discuss business the three gentlemen standing around the Queen's larder take a good sip of beer. Then they are ready to talk about the upcoming 90th birthday of Elizabeth II. "She has done a fantastic job!", says Nick Startup with such pride as if he had contributed to her success. Stuart Martin, 71, can only agree: "Especially if you consider that all 12 prime ministers who she had during her reign were all useless."
The three subjects of the Queen are of course not standing in her real storage room, but in a pub called "The Queen's larder". The cosy watering hole on Queen's Square in London's Bloomsbury exists for over 200 years. It was named after Queen Charlotte, who was said to have stored special foods and medicine for her husband George III on this square. He was also known as the Mad King and his queen Charlotte von Mecklenburg apparently tried to cure him with some healthy German recipes. Once upon a time the English called their pubs after their monarchs to express their loyalty. Till today there are many who carry the queen in their name. profil went to these pubs to talk with the crowd about Elizabeth II.
Stuart Martin has never been in the real royal larder, but he was once invited to her garden party at Buckingham Palace. Every year the queen invites thousands of guests – usually those who have contributed to the well being of British society like teachers, charity workers and officials. While her guests are sipping a cup of tea and munch cucumber sandwiches she and her husband Prince Philipp walk around shaking hands. "It was pretty beautiful", says Stuart Martin, who used to teach electrical engineering at the university of Leeds. The Queen, as she has been called by her people for the past 64 years of her reign, is above everyone else. If he could choose, with whom to dine – the Queen or the Dutchess of Cambridge, the pretty wife of Prince William, whom would he choose? "No question, the Queen of course!", says the grey haired monarchist: "Kate is middle class, she does not have what the Queen has."
A long time ago the Royals hunted fox in Regents Park. Today it is a public garden lush with green lawns and beautifully planted flowers. Directly next to it the old hunting lodge still exists. Once upon a time the exhausted blue bloods rested here after the hunt. Today the lodge is a gastro pub called the "Queen"s head & the artichoke". There is not a lot of interest in the Queen's birthday here. "I am the child of immigrants", says Gerard Brett, "I really don't care about the birthday of the queen." The 36-year old IT consultant cannot understand how someone can expect to be treated as monarch. "Because of what? Blood line?" His friend Vic de la Flor thinks the British people keep their Royals because "the monarchy reminds them of a time when the United Kingdom was big and powerful." Today, however, he shrugs, "the Royals are only the shadow of an era."
But this shadow belongs to British contemporary life like the pint in the pub after work. A vast majority of Britons love their Queen and would not want to abolish monarchy. "Why there still is a queen?", muses marketer Philipp at the trendy bar of "Queen's head & Artichoke": "It's a mixture of pragmatism and inertia underscored by the royals not being really awful I guess."
Even foreigners start seeing the advantages of having a monarch like Elizabeth II. "We in France don't have a religion or a monarch, and we were always proud of that", says Clemence Guibert. The 20 year old student of law came from Marseilles to London and works here as waitress in "The old queen's head". "But the French became so intolerant, the mood is so bad", she sighs and lights a cigarette. Even in England you are not allowed to smoke inside. Clemence sits on a table outside at the end of her shift. "People here are more polite and more tolerant. I am not sure that this is because of the Queen. But maybe she has a good influence on her subjects."
Subjects? "That is not how I want to be called", says Will O'Donnell. He met up with his colleagues at 6 pm sharp. The pub "The old queen's head" was called after the Queen under whose reign most pubs in the kingdom opened: Queen Victoria. She also reigned long enough – 64 years from 1837 to 1901. Her portrait still hangs next to the bar. "I personally would find the birthday of the queen only interesting if she would invite us to her palace for a real party", Will says. The 26 year old social worker manages a team of behavior specialists in a charity for autistic children. "The Royals only cost us money which other people could use better."
Almost no one in the pubs named after her wants to abolish the Queen. But some have revolutionary ideas. Will says: "We should do a bingo!" One family gets to be the royal family for a year. As it happens Will leads a double life already now – he also is the lead singer of the band "The dirty truth". And the dirty truth is this: "I quite like the idea to be king for a while. I would invite everyone to come to my birthday party to Buckingham Palace."