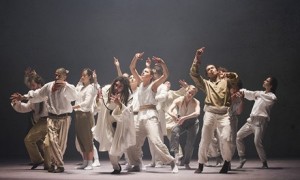 A study of evil: Israeli choreographer Hofesh Shechter brings "Sun" to Austria.
The evening starts with a preview of the ending: "Everything will be fine", the choreographer's voice informs us before the show begins. But before the Happy End comes, his dancers go through hell.
Thirty-eight-year-old Israeli Hofesh Shechter now lives in London. But his work in dance and composition still strongly references the deep instability of Israeli society. Originally he was a drummer in a rock band in Jerusalem. Shechter then danced in the acclaimed "Batsheva Dance company". Since 2003, he works with his own group of international dancers and composes his own music for all his productions. "Political Mother" (2010) and "Survival" (2012), a cooperation with British composer Antony Gormley, were particularly successful.
"Sun" was premiered in Melbourne before the British opening at the end of October in London's modern dance temple, Sadler's Wells. This newest work is wild ballet, all jerking limbs and challenging sounds, sometimes interrupted with baroque dance fragments – an elusive moment of peace because evil really is present always and everywhere. "Sun" is a 75-minute-long assault on the senses.
Its eponymous hero does not shine often in Shechter's sombre world. But he chose the title on purpose. Self-reflective irony is part of the show. And nobody can be certain if in the end the whole horror is not just staged.
"Sun" comes next to:
7 December
AUSTRIA, Festspielhaus, St.Polten, Sun
10-11 December
UK, Theatre Royal, Plymouth, Sun
20-23 March
UK, Sadler's Wells, London, Sun
http://www.hofesh.co.uk/