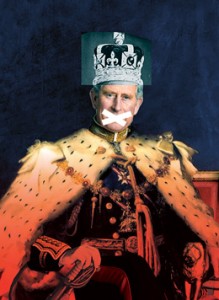 Her subjects can't wait - they want to know what happens after the death of their Queen.
Prince Harry is back in the media – this time not with naked pictures from Las Vegas but with "the real reasons why he and his girlfriend split" (if you really want to know: http://www.dailymail.co.uk/femail/article-2617385/Rows-best-friends-wedding-shadow-Chelsy-Cressie-Harry-really-split.html) But the fallback prince is in the limelight somewhere else, too. In the Almeida theatre in Islington. (http://www.almeida.co.uk/event/kingcharles3)
Don't bother to go on this link though. The farce of Mike Bartlett "King Charles III." is completely sold out after getting euphoric reviews (http://www.ft.com/cms/s/2/96af03f6-c10f-11e3-bd6b-00144feabdc0.html?ftcamp=published_links/rss/arts/feed//product#axzz2yZntoQmX). Rupert Goold directed the world premiere beginning of April and it runs till the end of May to a full house. The interest is high because Bartlett looks into the royal future: "The Queen is dead, long live the King – and the King is ….me!", Prince Charles muses at the beginning. The funeral, so carefully and thoughtfully preplanned by the Queen herself, has just ended when the trouble starts. Charles is supposed to be crowned, Camilla is excited, William and Kate look good as always and Harry, well, is about to fall in love with someone new.
What happens next might be an indication of how badly Britain already awaits the new monarch. There are always rumors that the 88-year old Queen could abdicate, bypass her eccentric 65-year old son and hand the crown directly over to 31-year old grandson William. Royal experts have always dismissed these ideas. Queen Elizabeth II. has already started to hand over royal business to her son. (http://www.mirror.co.uk/news/uk-news/queen-elizabeth-ii-hand-over-3039892)
So much to real life in Buckingham Palace. In East London Mike Bartlett gets to dream. Charles, who has waited so long to ascend to the throne, overdoes it immediately. He refuses to sign a law, which he fears will restrict freedom of press. The Prime Minister makes it clear to Charles that his signature is pure politeness by a democratically elected head of government towards a royal relict. The conflict between Monarch, Prime Minister and Parliament spins quickly out of control.
This is indeed quite funny. "The New Statesman" calls it "the boldest and most provocative play about the royal family in British theatrical history" (http://www.newstatesman.com/2014/04/diana-s-ghost-will-and-kate-baddies-most-provocative-royal-play-ever).
But the show ends disappointingly conventional. Maybe it is wishful thinking? William and Kate have outmaneuvered Charles and, when the light goes out, they are about to be crowned. Do even cheeky theater makers in Britain dream of a dull but dutiful monarch?
I really hope this will not be our fate. The well behaved Wills and his token family would be so dramatically boring. No doubt we journalists would have more fun if tree hugging Charles would make it to the throne one day.