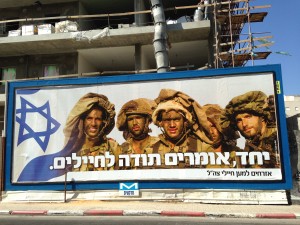 "Together, we thank our soldiers."
After the war is before the war. Many Israelis would rather negotiate then wait for the next round of fighting.
Both of them are 66 years old: the State of Israel and its citizen Yaakov Amidror. Once again they are in war, this time Israel is fighting the Islamist movement Hamas in the Gaza strip. Amidror was among those who occupied the territory in 1967 as a paratrooper - one of Israel's most prestigious elite army units. Although he sports a white beard now Amidror has lost none of his fighting spirit.
He is said to be close to the ultra right settler camp of minister of economy, Naftali Bennett. Until the end of 2013 Amidror was an advisor to Prime minister Benjamin Netanyahu on security questions. He headed his National Security Council. "If we want to prevent Hamas from shooting rockets at us", he says belligerently, "we need to retake Gaza".
He is not the only one who thinks like that. The extreme right Foreign minister Avigdor Lieberman always thought it was wrong that Israel pulled its troops out of Gaza in 2005. But this time Netanyahu did not listen - neither to Lieberman nor Amidror. More than that: Israel is even negotiating indirectly via the Egyptian government with Hamas about a ceasefire in Cairo. Amidror is not amused: "With terrorists you don't negotiate."
It's always the same. When the fighting dies down, the debate starts: What did Israel achieve with this war? Would it not have been better to talk to Hamas at least indirectly? Fatah leader and Palestinian president Mahmoud Abbas presented a unity government with Hamas at the beginning of June. But the Israeli government rejected negotiations.
Now big photos of soldiers in combat uniform are hanging everywhere in Tel Aviv with the slogan: "Together we thank our soldiers." The country mourns 64 Israeli soldiers and three civilians who have been killed since the offensive started on July 8th. 450 soldiers and 80 civilians were wounded. On the Palestinian side around 2000 people died, many of them civilians. Thousands were wounded and many Thousands are without homes now.
What comes next? Israel did destroy most of the tunnels - to be precise: 31 - and most of the rockets, which Hamas used to bring terror over (and under) Israel. But the Status Quo was not changed. The leadership of Hamas still does not recognize Israel's right to exist. And Hamas came out stronger than it was before. Many Palestinians do not support Hamas because they have sympathies for an Islamist organization, explains the figurehead of the Israeli peace movement, Uri Avnery: "Hamas has become the voice of resistance against Israel. And it has managed to draw the attention of the world community to the siege of Gaza, which Israel put in place in 2007." (see interview)
A similar picture of national consensus is found on the Israeli side. 77 percent of the population support Benjamin Netanyahu, a poll of the left leaning daily paper Haaretz revealed. "We cannot send a signal of weakness", says Justice minister Tzipi Livni in a briefing with foreign correspondents. Livni, who heads the small Hatnuah party is considered a dove among hawks. She is the chief negotiator of the Israeli government with the Palestinian Authority. The talks, however, broke down in spring.
The main opposition, the Labour party, joined the war camp, too. It's leader Jitzhak Herzog did not utter one word of criticism: "In times of war there is no opposition", the son of the former President Chaim Herzog said after a condolence visit with parents of a fallen soldier. Herzog usually promotes a Two-State-solution.
The small left wing Meretz party was the only one to call for a ceasefire right from the start of the fighting. Gideon Levy, a fierce critic of the Israeli government, went even further. In an editorial he claimed that Israel's most celebrated elite unit, the fighter pilots, has gone from the best to the worst. These proud and excellently trained and educated young men did not fight in real wars against other armies anymore, Levy wrote, they "commit the worst deeds" by pushing a button and bringing devastation over "defenseless civilians".
The outcry against Levy was intense. The journalist had put his finger on a painful spot. Talking to profil he sighs: "Fathers and sons who served the Israeli army with pride, slowly come to understand that this army has become an occupation army." His newspaper had to pay for a body guard. Levy had been attacked on Tel Aviv's Carmel market by furious fruit and vegetable sellers. "The brainwashing of television and big newspapers become ever more intense", he says, "and the social media acts as a megaphone for this trend of brutal propaganda". He meanwhile has sent the bodyguards home. He smiles dryly: "I had to fight with them, too! They are very right wing."
The critics don't have an easy time. But there is visible unease in the society at large. Many Israelis wish for a successful conclusion of peace negotiations - and not only because they do not want to loose their sons in recurring useless military operations. The leftist and very well respected author David Grossman, whose son died in the war in Lebanon in 2006, called together with other peaceniks for a demonstration on Rabin-Square in Tel Aviv under the slogan: "No to war. It is time for a diplomatic solution."
The people at the front share this feeling. In the shelter of Kibbutz Nirim Anat Hefetz explains: "I expect from my government that it does everything in its power to ensure the security of my children." Anat is 35, she has two little kids and she votes for Meretz: "Military methods quite obviously don't work. We need a negotiated settlement."

She has been living in Kibbutz Nirim for the past five years - only two kilometers from the Gaza strip. The young mother has a friend in Gaza, their email contact stopped when the war started: "The life of the Gaza Palestinians is absolutely impossible", Anat says.
Her life is also not pleasant. Her kibbutz is so close to the rocket launchers in the Strip beyond the fence that the Israeli defense system "Iron Dome" cannot catch the incoming rockets. "We only have ten seconds to take our kids to the shelter", explains English teacher Adele Raemer: "Every two year the same escalation. And in between we get lots of rockets, too." She points to the street in front of her. There is a hole in the asphalt where a rocket hit a couple of weeks ago.
The people of Kibbutz Nirim will not forget easily that a ceasefire without a negotiated permanent solution will only lead to one thing: the next round of war.