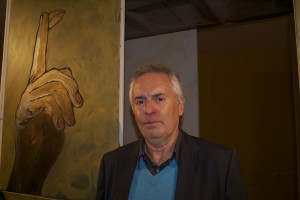 Hans Weigand in front of his Majakovski installation
Vienna's Jewish Museum cooperated with the Russian NGO Memorial in an art project about memory in Moscow.
An idyllic image, a view from a window. But a closer look reveals barbed wire on the fence. The embroidery was created by a Gulag inmate who probably did not survive. The art work landed in the collection of the Russian human rights organization Memorial which deals with the memory of the Gulag. Russian-Austrian artist Ekaterina Shapiro-Obermayr picked this artefact to inspire her work for the exhibition "Tales of 2 cities" which opened last week in Moscow.
Together with the Jewish Museum in Vienna the collections of both organizations opened to each three Russian and Austrian artists to inspire them to a contemporary art project. Shapiro-Obermayr came with Hans Weigand and Zenita Komad from Austria. Haim Sokol, Olga Jitlina and Alisa Yoffe represented Russia. The organizers tried to avoid connecting the Gulag memory too closely to Auschwitz: "One cannot compare the extermination of the Jews through the Nazis with Stalin's terror", says museum director Danielle Spera from Vienna. For her it was important "to bring two institutions together who deal with the memory of those who vanished." The show will come to Vienna in January 2015.
In contemporary Russia Memorial stands pretty much alone in dealing with the memory of the Gulag. President Putin prefers to remind his population of Stalin's victory over fascism, not of his murderous policies which sent millions into prison camps. NGOs who receive donations from foreign organization have to register as "foreign agents" since 2012. Memorial employees are treated as enemies of the people. "It is very difficult", says Irina Sherbacova: "We never know if we can still work next week."
In this sense "Tales of 2 cities" could fall under the new spy law, too. The exhibition was sponsored by private donors - Austria's Raiffeisenbank among others. And it is being shown in the private Museum of Modern Art owned by Vassili Tsereteli. Politically courageous are the Russian works which Austrian cultural attaché Simon Mraz chose. Alissa Yoffe for example comes form the artistic environment of Pussy Riot. She was inspired by a thora curtain in Vienna to a painting of a punk concert; the Russian-Israeli artist Haim Sokol chose the lead bullet which killed the Jewish revolutionary Karl Heinrich Spitzer in 1848. He created letters out of lead instead.
Austria's Hans Weigand chose a pillow case with an embroidered image of Wladimir Majakowski, the revolutionary Russian poet who committed suicide in 1930. A Gulag inmate created this work - maybe as a last act of resistance. Weigand did not think twice about participating in this bilateral project in political sensitive times. "The people of Memorial are being harassed by their authorities, they need our support." And he was also shocked to see their collection. "Millions of people vanished in the Gulag. And what is left? A few steel cabinets full of artefacts.