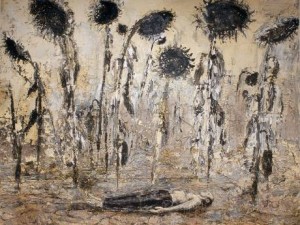 Anselm Kiefer's Ash flowers
This year it was not the Frieze itself which kept art lovers busy. But the excellent exhibitions which opened in London's museums and galleries at the same time. Here are my Top 5 to go see in the next weeks:
Anselm Kiefer's giant paintings in the Royal Academy of Arts, interpretations of Paul Celan poems, are landscapes of the German soul after the war. Maybe it is my heritage, Brits might react differently, but the ash flowers in snowy landscapes kept me standing and contemplate quietly for a long time.
http://www.independent.co.uk/arts-entertainment/art/reviews/anselm-kiefer-royal-academy-preview-is-he-our-greatest-living-artist-9729789.html
https://www.royalacademy.org.uk/.../anselm-kiefer

2) All nationalities among the Frieze mop agreed on one thing: "Rembrandt: the Late Works" at the National Gallery is the most important exhibition of this fall. The first room in the basement of the Gallery on Trafalgar Square is small and dark. But resist the urge to move on to Room 2. Even if there is a big crowd it is worth waiting to stand in front of each of these late reflections of an old man, who painted himself in the hours of his own defeat. Old, sick and bankrupt he looks at us rushing by. The look in his eyes will stay with me for a long time.
Simon Shama wrote a beautiful piece about these master pieces in the Weekend FT:
http://www.ft.com/cms/s/2/a4230272-552e-11e4-b616-00144feab7de.html#slide0
http://www.nationalgallery.org.uk/whats-on/exhibitions/rembrandt-the-late-works

3) On to young artists. And a woman. Lindsay Seers Video in the Hayward Gallery's group exhibition Mirrorcity is the most compelling video I have seen this fall. The other Londoners by choice in this show are not less important - Laure Prouvost, Susan Hiller oder Ursula Mayer. But Seers work was for me the highlight. It is based on a project commissioned by my favourite London art group Artangel in 2012: "Nowhere less now". Projected on a giant eyeball in convex and conkave form in a kind of ship's hold she tells the story of her family from Leni Riefenstahl dancing to worms who eat it all. Strangely, you do not want to miss a single moment of this film.
http://www.southbankcentre.co.uk/whatson/mirrorcity-23-london-artists-86590?dt=2014-10-20
http://www.artangel.org.uk/projects/2012/nowhere_less_now/about_the_project/nowhere_less_now

4) A fine and fun surprise of the Frieze-Exhibition-Extravaganza is the collection of Theo Danjuma in a rented townhouse on 33 Fitzroy Square. The son of a Nigerian general shows his choice of cutting edge contemporary art with the telling title: "One Man's Trash (Is Another Man's Treasure)". Artists like Danh Vō or Gedi Sibony indeed challenge the view of art more conservative connaisseurs might hold. The wealth behind the collection of the 28 year old shooting star among London's oligarch collectors is a result of the good connections papa Danjuma had with Nigeria's former dictator Sani Abacha. In this sense the collection does not only prove exquisit taste in contemporary art, but also shows what fuels London's glamorous art scene.
http://news.artnet.com/art-world/mega-rich-nigerian-ex-generals-son-makes-art-world-splash-117847

5) Finally, back to the Germans. It cannot be by accident that three exhibitions are dedicated to Germany's biggest artists of the Post-war generation: Kiefer in the Royal Academy, Gerhard Richter in the new gallery space of Marian Goodman on Golden Square and, last but not least, the witty, provocative Sigmar Polke in Tate Modern. His stoned videos from Afghanistan in the 70ties, his point paintings of the same period - beautiful and funny: The police pig from 1982 - or his artistic games with the ever dominant German sausage must lead every visitor straight to Tate Modern - even after the equally fabulous Malevich-exhibition has been taken down after October 26.
http://www.tate.org.uk/whats-on/tate-modern/exhibition/alibis-sigmar-polke-1963-2010

Minus 1) At the end an anti-recommendation: Part of the new appreciation of Britain towards Germany is an exhibition on the country itself: "Germany - memories of nation" in the British Museum. To my regret the hype about it was much ado bout nothing. Yes, there are nice details like the video of the night, when the Berlin wall came down. Or the cut out sheets of Nazi soldiers for kids. But walking through I could not get rid of the feeling that somebody had poured friendship sand into the abyss of German history. Not that this is not nice. It shows that Germans are seen today on the British islands not as Nazi threat but as the most reliable European democrats. But still. Without the Blitz all those mosaic stones of German memory lack conclusive interpretation. More interesting than the exhibition itself is a Radio 4 series to "Germany" by the director of the British Museum Neil MacGregor.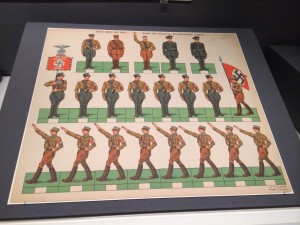 http://www.bbc.co.uk/programmes/b04dwbwz
http://www.britishmuseum.org/whats_on/exhibitions/germany_memories_of_a_nation