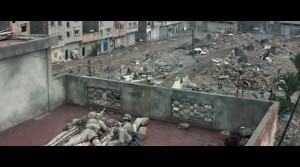 American sniper in position
Clint Eastwood made a new movie, a patriotic Western in the Wild East. America loves both – director and film.
According to the New York Times, a "sand movie" is the term for an Iraq or Afghanistan war movie. Clint Eastwood, Hollywood's by now oldest and most trusted hand for a Western, could not stop himself from making a Western in the Wild East. I saw it last Sunday afternoon together with half of America and now I know what the term means.
The 84 year-old Hollywood legend did the right thing – at least according to the box office. The film made over 100 million dollars on the long weekend of January 17, something which no other Oscar nominated movie has managed to do. The film draws, we are told, on a male crowd for the battle scenes and a female crowd for the family drama.
"American Sniper" with Bradley Cooper tells the real story of the deadliest sniper in US army history. Chris Kyle, a former cowboy, went to Iraq after 9/11 to "defend his country". Coming home, his therapist asks him, if he regrets any of his shots, to which Kyle confidently responds: "Oh, that's not me, Sir. I am willing to meet my creator and answer him for every shot I ever took."
So what do we learn from the film? That intervention does not work and that soldiers only return damaged to their families? Yes, maybe. US soldiers cannot feel safe and sound while they shoot around in sand storms or raid living rooms filled with crying children.
But Clint Eastwood mostly creates a patriotic film, in which American soldiers battle heroically in a world of evil somewhere far away. Looking at the huge, packed cinema hall in Manhattan, I doubted that people flocked to the movie theatres for a deeper deliberation on the consequences of military intervention. The title alone - "American Sniper" - suggests one thing and one thing only: what Americans really like to do is aim, shoot and kill.
PS: I am not the American box office target group (European 47 year old female) but I much prefer the movie I watched on the way back from New York to London: "A million ways to die in the West". Not an intellectual movie either. But at least it makes fun of everything Americans can make fun of. And some of the shallow lines sounded - in comparison to the "American Sniper" shootout - like a rather deep exploration of the American soul. Bottom line, as Charlize Theron puts it to her co-star and film director Seth MacFarlane: "The West sucks. But the frontier is not your problem. You just need a little confidence boost."