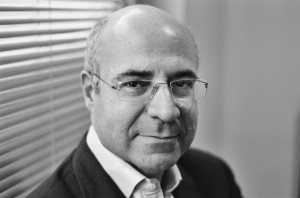 ©Alex Schlacher
Bill Browder invented the sanctions against Russia. In his autobiography "Red Notice" the British-American businessman and human rights activist describes how he became Putin's fiercest enemy.
Habits can be dangerous for enemies of the state. This is why Bill Browder never eats in the same restaurant twice. His office behind Piccadilly Circus is protected – no one gets in without appointment. "I cannot tell you exactly which other security measures I take", says the 50 year old Putin critic from Chicago, with a mixture of resignation and the boyish pleasure of an adventurer. One thing seems clear to him: "My chances of survival have always been limited. They would love to kill me, if they would get away with it."
In his autobiography "Red Notice: A True Story of High Finance, Murder, and One Man's Fight for Justice" Browder gives a gripping and readable account on how he went from being the biggest foreign investor in Russia to the sharpest critic of president Putin. Two weeks after publication, the US edition is in 11th place on the "New York Times" bestseller list.
Browder describes the corrupt dealings of the business elite and its political stooges in Russia in the 90s. He knows Russia's business practices inside out. Until 2005 he spent his time finding risky business opportunities by buying cheap shares in Russian companies and watching them skyrocket in value. The book therefore is a unique chance to understand Russia's corruption with an insider's knowledge.
His grandfather, Earl Browder, was once the head of the Communist Party in the US. This legacy left Bill wanting to rebel against his leftist family, and so he decided to become the biggest capitalist in Russia. His plan worked. "Hermitage Capital Management" managed one billion Dollars in 2000 and 4,5 billion Dollars in 2005.
But then came his fall - with all ingredients of a Shakespearian tragedy. Browder, who had viewed president Vladimir Putin as an ally fighting corruption and reigning in oligarchs, fell out of Putin's grace. The American hyper capitalist wanted to invest in transparent companies fighting corruption. "The employee should not pay or accept bribes anymore. Because corruption destroys the economy", Browder explains. But unfortunately for him, corruption had become the new state religion in Putin's Russia.
At the end of 2005, Browder's visa was not renewed. Browder was deported from Moscow. He lived in London. He stripped his company of all assets. Hermitage stayed behind as an empty shell. In 2008 one of his lawyers uncovered a huge fraud case. Officials of the interior ministry, with help from corrupt tax officials, had stolen 230 million dollars of Russian tax money. The fraudsters used Browder's company name for their coup. When his lawyer Sergei Magnitzky notified the authorities, they did not arrest the corrupt officials – they arrested Magnitzky. One year later the 39-year-old lawyer died in a prison in Moscow.
Bill Browder took the death of his lawyer personally. "Sergei Magnitzky was the most courageous man I ever knew", he says. He also dedicated his book to him. The second part of "Red Notice" describes the terrifying lawlessness in modern Russia's judicial system. And it chronicles a most ambitious project that changed Browder's life.
Because it was out of the question to get justice for Sergei Magnitzky in Russia, Browder set out to convince the West to introduce sanctions against the people he claims are responsible for his lawyer's death. He was successful in the US, where congress voted for the so-called "Magnitzky List" in 2012. On it where 18 names of Russians who brought Magnitzky to death. Their assets were frozen and entry to the United States was denied.
The Europeans continued to hesitate. "European governments have not been keen on introducing the Magnitzky list. But the European parliaments would in some cases have been happy to act on it." Browder sighs: "The story is pretty much the same everywhere. Governments did not like to impose sanctions against Russia because they did not want to compromise their business with Russia for a dead lawyer. And there was always the hope to appease Putin. People think if they are nice to him he will behave himself. It was not a clever strategy. But they tried."
The Austrian government even invited Putin for a state visit as late as June 2014. Browder cannot help himself and smiles: "Austria seems to have a more favourable view of Putin than other countries in Europe. Thankfully, Austria is not the most powerful country in Europe. So whatever the opinion of the government is - it is subordinate to the opinion of the German, French or UK governments. Putin is so badly misbehaving now that even his supporters have trouble sympathizing with him nowadays. At the moment when MH 17 (a passenger plane of Malaysia Airlines, which was shot down over Eastern Ukraine on July 17th 2014, author's note) crashed, it became impossible for Putin sympathizers to come up with the same lot of nonsense they came up with before. Who could look Frans Timmersons, the Dutch foreign minister at the time, in the eye and tell him: Our business relationship with Russia is more important than your 200 dead citizens, who were innocent civilians and who had nothing to do with Russia and who were just shot out of the sky by Russians."
In April 2014, the European Parliament voted for a Magnitzky list with 32 names on it. For the first time in its history, the European Parliament put its own sanctions list together. It was approved unanimously but has since been ignored by the EU council and the EU commission. On the other hand, the EU has supported much more severe sanctions against Russia.
Has his campaign suffered because of the events in the Ukraine? Browder points to a new development in America. "The United State Congress introduced Global Magnitzky Sanctions at the beginning of February. The law will not only apply to Russia, but to every bad guy everywhere in the world. It will be called "The Global Magnitzky Act". The sectorial sanctions being introduced now by the international community are a crude instrument. They sanction not only Putin and his administration, but every person in Russia. My opinion is that there are 140 million good Russians and one million very bad Russians who have occupied the country and who make the life of the vast majority of the population miserable."
His book launch gave Browder new publicity. In an interview with CNN's Fareed Zakaria, Russia's former biggest investor claimed nonchalantly that Putin has already stolen 200 billion Dollars from his people. How can he come out with such an outrageous claim? Browder is confident that he knows Putin's work methods by heart: "Putin has never felt comfortable keeping stolen money in his own name because he knows that would ultimately compromise him, so he uses what I call 'oligarch trustees'. Over the course of the last 15 years most Russian oligarchs hold Putin's wealth as trustee for him. When I see the Russian rich lists, I assume that roughly half the wealth supposedly belonging to the oligarchs is actually Putin's." Officially Putin earns a rather modest salary of 100.000 Euro every year.
Some might think Browder is suicidal for taking on a fight like this. He would not be the first Putin critic to die a sudden death. But the man who invented the sanctions against Russia sits quite relaxed in his London office. "If Russia does something bad, sanctions are our only choice. And the sanctions are actually working. The fact is that the sanctions have created capital flight out of Russia, which created problems for the Ruble. And that puts Putin under pressure. He is not acting with impunity. He is understanding now that there are consequences to his actions."
With this Bill Browder looks around his conference room. The walls are filled with framed articles that chronicle his fight for justice for Sergei Magnitzky. He does not give the impression of one who is hunted. He looks more like a hunter who has been laying in waiting for his prey for a long time.