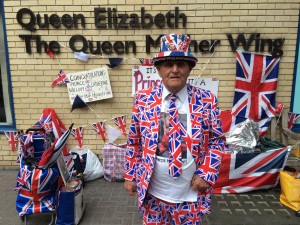 The British election campaign has reached it's final phase. How to cut the deficit is the question at the forefront of the debate. Other hot topics: Will the Scots destroy the UK and should Great Britain reform or leave the EU?
1 The Incumbent – David Cameron recently ate a hot dog with fork and knife while attending a campaign barbecue. He clearly did not want to make the same mistake as his challenger Ed Miliband who was caught on camera biting heartily into a bacon sandwich. This would never happen to David Cameron. The British Prime Minister and leader of the conservative Tory-Party is too well educated, too experienced – and too well briefed.
Conclusion of his term as Prime Minister: Cameron is great in debates, good in tactics and mediocre when it comes to strategy. Personally he is fiscally conservative and socially liberal. As Prime Minister he can point to some successes, mainly: A growing economy and two million more people in employment today than at the beginning of his term five years ago. But at the same time wages have not grown. Most Britons, therefore, feel not richer but poorer. This is why Cameron's Tories are fighting head to head with Labour in the opinion polls.
2 The Challenger – Awkward, stiff, aloof – this is how the British public saw Ed Miliband, leader of the Labour Party for most of the past five years. Sexy was the last attribute people would have associated him with. But then Twitter user @cooledmiliband produced a series of photo collages which showed the 45 year old as James Dean, Indiana Jones, Marlon Brando or Mick Jagger. The images went viral. Suddenly Ed appeared masculine and – cool.
Ed Miliband has had a good campaign in general. While observers felt that Cameron was not energetic, Miliband got credit for being passionate. The conservative spin doctor's strategy failed. They planned to attack Miliband personally – for back stabbing his brother David in the leadership campaign for example – and to portray him as being incapable of governing the country. But this did not work. People did not like the personal smear campaign. On the contrary, Miliband got cookie points for appearing human.
The Labour leader even took the risk of visiting Russell Brand, the comedian turned revolutionary, and recorded an interview with his "Trews"-program in Brand's kitchen. The comedian became famous for calling for a boycott of elections and for political upheaval. Miliband argued against abstaining and, surprise, for giving him the vote instead. Cameron called all this "stupid". But is it? Brand has 9,6 million Twitter followers. In terms of campaign PR among the young and non-voters, Miliband scored high for daring to appear on "Trews". "It is a sign of the times", says LSE professor Tony Travers: "Speaking to non-voters from Brand's kitchen made Miliband somewhat the representative of all the established political class."
Both party leaders, however, are not particularly popular: "On a scale of 1 to 10 all leaders are very close", says Paul Whiteley of University of Essex: "Cameron has the highest rating, but even he is only at 5 points. Miliband is hovering just underneath him with 4,5 points." In any case: during the campaign awkward "Red Ed" has turned into a cool and self confident Prime Minister in waiting – a drastic image change within a few weeks.
3 - Hung Parliament – Great Britain votes according to the "First past the poll" system. The candidate with the majority in one of the 650 constituencies goes to the House of Commons. Currently the Tories are set to win 272 seats on May 7th (of 306 today). Coalition partner Liberal Democrats would shrink from 57 to 25. This is not enough for a Queen's speech, when the monarch presents the next government's program in the House of Lords.
The alternative is not much better. Labour is also predicted to win about 272 seats (up 15). If the LibDems don't form a coalition with the leftist Social Democrats, Labour can only go for a minority government. Miliband refuses a "deal" – even in the form of outside support – with the Scottish Nationalist Party SNP under Nicola Sturgeon. The SNP wants Scottish independence. No British Prime Minister could form a government with those who want to destroy the Union. It would be like running the sword of Damocles, currently hanging over Great Britain, straight into its heart.
4 – The outsider – There is no question as to who has had the best time during this election campaign: Nicola Sturgeon. As long as Scotland is part of the United Kingdom, the SNP leader can campaign for votes in Westminster. The referendum on independence was lost in September, so the danger that Sturgeon will break up the Union is not too big for the moment. But it clearly gives the 44 year old leader great pleasure to mix up male power games in the capital: "Together we can send the Tories home!" she called out to a highly embarrassed Ed Miliband in a TV debate. Sturgeon is a left wing social democrat who likes to attack, but does so with a clear mind and heart. She wears high heels, still irons her husbands shirts and lets no one get between herself and a progressive agenda for a more socially just country. What a pity she's a nationalist.
6 – Enemy of the EU – UKIP, the EU phobic "United Kingdom Independence Party" is surprisingly inexistent in this campaign. The charismatic party leader Nigel Farage lacks energy due to back problems. UKIP might still get 10 to 15 percent of the votes, but only two or three seats in the House of Commons. The party is therefore playing almost no role in coalition games. Media interest is at its lowest point. A briefing in Westminster of UKIP's chief ideologue and deputy leader Suzanne Evans only lasted 15 minutes because journalists did not have any questions left to ask.
If voted back in, Tories have promised a referendum about a possible exit from the Euopean Union by 2017. Cameron decided on this rather dangerous strategy to get UKIP and his own backbenchers under control. Labour spin doctors followed another strategy: They want their candidates to speak as little as possible about Europe. "We think a EU referendum is useless", explained Labour's EU spokesman Pat Mc-Fadden at a briefing: "We don't want to turn Europe into a battlefield. We want to be a force of reform within the European Union."
7 – Princess – Catherine of Cambridge gave birth to her second child May 2nd. As fans and TV crews piled up in front of St Mary's hospital in Paddington to wait for the royal baby, many Britons turned their attention away from the battle about Westminster to the new member of the royal family. Compared to the newly born princess any of the campaigning democrats look old.