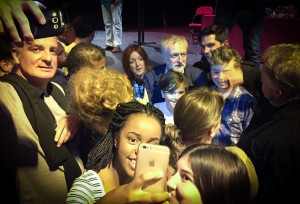 Foto: Alex Schlacher
On September 12 a 66-year old left wing peace activist could be crowned Labour party leader. The political establishment in Britain is watching with a mixture of thrill and horror.
Jeremy Corbyn comes on stage as quietly as possible. The candidate for the Labour Party leader wears comfortable brown shoes with soft soles. He also sports grey trousers and a very wide white shirt with stripes. The open neck shows an old fashioned undershirt. He hangs his blue blouson over a chair. Then he sits down and smiles out of his grey bearded face into the hall.
That's how the evening with the 66 year old shooting star of British politics starts. His nomination was planned as a provocation against the centrist candidates. The Labour party had suffered a humiliating defeat at the parliamentary elections on May 7th. The conservative Tories under the leadership of David Cameron formed a majority government. Labour chief Ed Miliband resigned. The battle for his successor started only reluctantly.
After Ed Miliband had lead the party with the backing of the unions the centrists of the party sought to retake control. But then Corbyn suddenly gained support, within a few summer weeks he started to lead in opinion polls. It looks now as if the far left candidate Jeremy Corbyn is set to win the internal election among 600.000 Labour party supporters on September 12.
When the gaunt man appears on stage everyone jumps out of their seats - the chubby and the skinny, the young and the old. Standing ovations are countless during this rally. The county town of Essex in the East of England came to wealth with telecommunication companies like Marconi. Most of these manifacturers have long given up and have closed down. Most Chelmsforders take a train to London to work. "If you say in Germany that the state should help to invest in local manifacturing everyone thinks it is normal. Why should it be different here?", the new hero of the Labour party calls out. Again, many get up and cheer him on.
Corbyn would also like to renationalize big national companies like train or post services. That's a little unrealistic. But not as absurd as everyone tries to portray it. Tony Blair himself called for it in 1995, shortly before he became the leader of New Labour.
Since it is increasingly likely that he actually wins, Corbyn has started to slightly moderate his positions. His distance to the European Union has narrowed: "We have to stay in the European Union in order to fight for a better Europe." Before he has always played the enfant terrible within his own party. He was elected to parliament in 1983 and in 533 of 3498 votes in the House of Commons he has chosen to contradict his own party line. He even voted against the Lissabon treaty. Then again, he also voted for Britain to coordinate better in matters of police and justice.
If he becomes leader of the opposition he might have to share a podium with the Prime minister to campaign for an "In-vote" at the EU referendum. That would be comical for both of them. Corbyn ciritizes the EU from the left and Cameron does so from the right. But both now think it is in the interest of their country to stay in the European Union.
Why are young voters so drawn to a man you could be, well, their grandfather? It must be more than his call for social security. In Chelmsford he appears on the same day Cameron has announced that Britain would not take more refugees from Syria. For Corbyn, the idealist and life long human rights campaigner, this is hard to believe: "Germany takes a large number of refugees. Can I politely suggest to the prime minister a bit more of a language of humanism. We all need to do our share to manage this humanitarian crisis. Those people are desperate, we cannot blame them for their plight."
Emma Hampton likes the fact that someone calls for compassion and spreads social warmth. She is not alone with the feeling that it has been lost lately between xenophobe UKIP politicians and slick members of the established people's parties. "Jeremy says the truth and I like it", says the 21 year old student of chemistry. She wears a "Jez we can"-Tshirt. And candidates like Yvette Cooper? The 46-year old former Labour minister also campaigns to become leader of the party. She was the first to call on Cameron to allow many more refugees from Syria to come to Britain. "It's true", says Emma, "but as much as I would love a woman leader now, I trust Jeremy more. He is authentic. "
Corbyn seems to wear the same clothes today as in 1983 when he was elected to the House of Commons for the London district of North Islington. Like his outfit he has not changed his political opinions much. He might only adapt them slightly on his way to become leader of the Labour party.
Then and now he was strictly against nuclear weapons and military interventions. His parents were pacifists and anti fascists. They met during the Spanish civil war. This is were Corbyn's political thinking comes from. And fuels his mistrust of Americans and Nato. He still detects imperialist motives as if the Cold war never ended. This is a touch old fashioned. Especially when it was not America but Russia who send its troops over the border into the Ukraine in 2014.
But Corbyn does not say anymore that he wants to leave the North Atlantic Organization. "I would definitely limit the role of Nato though", he says. Another thorny issue for many is that he called Hamas his "friends". Corbyn says he only wanted to say that you have to keep a channel of communication open with everyone. Even with Putin and Hamas.
His pacifism has a modern side, too. When the House of Common voted for military intervention in Iraq in 2003, Corbyn voted "No" although Tony Blair had begged all of Labour to follow him into this war. Today he is even more convinced that he was right. "We see now what this war lead to. Millions of refugees are on the way into Europe to escape the chaos."
Jeremy grew up in West England. His mother was a teacher. For decades he has lived in North London and that is how he speaks. The new hero of the working class is not a child of the working class. But never mind. His competitors have all studied in Oxford and Cambridge. Corbyn did not finish his studies at a Polytechnic university, he dropped out to focus on the political struggle.
For long years his struggle seemed rather lonely. He clearly enjoys his new popularity now. "The world today is richer than hundred years ago. But it is less just", he says at the end of his rally. "I want to change that. And the amazing thing we have seen during these summer weeks is to see how many of you want to do the same."
Of course the whole hall stands up again and cheers. He climbs down from the stage and speaks to everyone who wants to speak to him. He listens, they take selfies. Brandon Tirwari, a young student of politics and economics asks him how he will unite the Labour party should he really win. So far the old leaders Gordon Brown and Tony Blair have demonized him.
The "democratic socialist", how he describes himself, does not seem overly worried about the infighting. "Our movement has space for all", he says. Then he puts on his blue blouson and leaves. If you want to change the world, you really cannot be bothered with infighting and intrigues. Or ties.