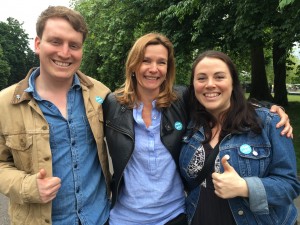 High hopes: #hugabrit with Joe & Caitie - who founded creative lab Fancylamps - on June 18th. 
How #hugabrit tried to convince the British people to stay in the European Union. And failed.
(updated English version of a text published in German in Cicero and Die Furche)
The idea that Britain might leave the European Union got under my skin as soon as the idea of an EU-referendum was floated by EU-sceptics in the Tory party. Not only because I have lived here for the past six years. As an Austrian and European I have always been convinced: It is a sign of civilization when European leaders spend their time negotiating the degree to which a cucumber should be allowed to be bent. It is certainly better than pitting their armies against each other on the battlefields. Britons do not necessarily feel this way. Unlike the European continent the Isles have not been a battlefield for centuries. The prospect of peace and security is not as ostensibly important to them. As I watched EU-scepticism rise over months and Brexit becoming a real option, I decided to forgo my usual journalistic impartiality and get politically engaged.
After the British national elections in May 2015 my friend and colleague Birgit Maass said to me: "I think we should do something to prevent Britain from leaving the EU." I instantly agreed. Throughout the next months we developed a grass roots movement from scratch. The making of #hugabrit @pleasedontgouk became a case study of how to create of a social media campaign.
In the course of autumn 2015 we came up with the idea: The tone needed to be strictly positive and the message should be so friendly that nobody could accuse us of being patronizing. But we also needed to find something cheeky and controversial enough to get attention. We wanted to make use of two of the characteristics Britons are famous for: their sense of humour and their reputation of being reserved, even averse to personal contact with strangers. We also wanted to use the fact that all teenagers and socially conscious people take Selfies all the time. We created a website www.pleasedontgouk.com, to which we uploaded pictures of EU citizens hugging their favourite Brit, along with a few sentences about their story. Using the hashtag #hugabrit these images were linked to social media via Twitter, Instagram and Facebook accounts. The idea was so simple that everyone could participate.
For a while I thought it would be witty to give our "love bomb to Britain" the name #LoveBlitz - referring to what the Britons called the bombing campaign of Nazi Germany against British cities in 1940. I asked Timothy Garton Ash what he thought of it. I will never forget the bewildered look in his eyes. We dropped the idea. And opted for #hugabrit.
Most of our group members had the same feeling. Marianna Rosenfeld, an Italian art restorer, Katie Lock, a German photographer and Rosa McNamara, an Irish doctor were there from early on. The Swedish marketeer Amanda Ullman and the German social media expert Christine Ullmann came later. They brought Verena Enderle with them, our shy and genius designer, who invented our logo. Paul Varga, an Austrian inventor, was the only man who enthusiastically threw himself into our pro bono operation.
In the winter #hugabrit started to take shape, at the same time as the official campaigns "Vote Leave" and "Stronger In" took off. Well funded and oiled. David Cameron's In camp paid nine million pounds – about 11,6 million euro - for a booklet which was put in every letter slot in the country and bored people to tears. #hugabrit by contrast did not have a budget at all. When approached by pro-European groups, who offered to sponsor us, we declined. We wanted to stay strictly independent.
Instead, the launch party of #hugabrit received contributions from likeminded European wine shops and restaurants in London. Austrian Cafè Kipferl, Italian restaurant Sardo, Scandinavian kitchen and La Fromagerie donated their specialities. By then we were overwhelmed by the support #hugabrit got from all over Europe and the UK. Many more people than expected came to the party. Two weeks before #hugabrit had gone viral on social media after Tim Dowling had written about us in "The Guardian". http://www.theguardian.com/commentisfree/2016/apr/07/prepare-love-bombed-britain-hugabrit-jarvis-cocker?CMP=oth_b-aplnews_d-2 After this my phone never stopped vibrating.
From the middle of April onwards we received a flood of interview requests. I organized smaller Hug-ins for TV teams, radio reporters and daily papers. We counted 140 articles and broadcasts at the beginning of June. El Pais, Le Monde, Wall Street Journal, Die Welt, BBC, CNN, ARD. Sometimes we put an article through Google Translate to figure out, what language it was written in.
EU sceptical British papers like "The Sun", "Daily Mail" and "Times" accused #hugabrit to be "un-British". One columnist discussed, how he would explain to his wife why he let a "long legged Italian beauty" hug him. #hugabrit could not help him with this dilemma. But for us every media mention of @pleasedontgouk was good: It lead to more images being sent to our email address with hugs from Cambridge, Thessaloniki or Brussels.
At a Hug-in on Parliament Square in front of Big Ben a reporter from Barcelona TV asked me if our concept was not a little "naïve" given the complexity of the matter. "The best things come out of an embrace", I answered. By the way: I will dispute from now on that Britons don't like to get hugged. My first #hugabrit was with the English artist Jeremy Deller. The Turner Prize winner was bewildered but not against a hug. After all, he was adamant about staying in the European Union. #hugabrit co-founder Birgit Maass even hugged Nigel Farage, the EU phobic UKIP boss, live on BBC breakfast TV. He turned pink in her embrace in the most beautiful way.
https://www.youtube.com/watch?v=gEZEgxCgn_U
In the last months of this bitter and hate-filled British EU campaign #hugabrit has added a positive tone. We deeply believe that cooperation is better than isolation. But it turned out that we did not hug enough Brits to convince them to stay in the European Union. Although I am glad we tried all we could to prevent this from happening neither we nor the official In campaign got to those millions of Britons who use the EU as scapegoat for everything and who feel left out. On June 23rd the British Islands seem to have floated even further away from the European continent.