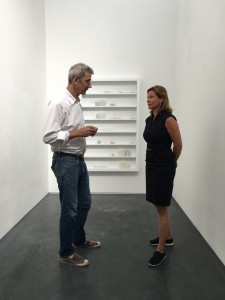 British author and artist Edmund de Waal about the obsession with porcelain, Austria and his international bestseller "The Hare with the Amber Eyes".
His unpretentious vase installations were quite well known in Great Britain before he became a world celebrity. But since Edmund de Waal wrote "The Hare with Amber Eyes" his vases have become international bestsellers. The writer and ceramicist can choose about what he wants to write and where he would like to exhibit. This year alone he showed at Gagosian in New York, Turner Contemporary in Margate, Max Hetzler in Berlin. This autumn he will show his work in several locations in Austria. He will return to Palais Ephrussi, which was once built by his family on Vienna's famous Ringstraße, to launch his new book "The White Road." Profil visited him in his studio in South London.
You would not be able to tell from the outside which passion hides behind those simple grey garage doors in South London. Once it was a gun powder factory. Today it is the studio of Edmund de Waal. The English potter - as he likes to call himself – wrote a book in 2010 which made him famous. In "The Hare with Amber Eyes" he describes epically and movingly the history of his family. The Ephrussi clan were once a wealthy European-Jewish dynasty of bankers. Edmund's grandfather was kicked out of the family home in Vienna after the "Anschluss" in 1938. That is why his grandson has come to be born in London.
De Waal's assistant opens the door. In the vestibule two men busy themselves with photographing one of the installations for Frieze, the contemporary art fair which will open of October 5th in London's Regent's Park. Edmund de Waal is exhibiting with Larry Gagosian. Artists under contract with the Armenian-American art manager are known to be worth their money. Before "The Hare" this was not as clear as it is now. Since the first exhibition at Gagosian in New York 2013 – with the unusual German title "Atemwende" after Paul Celan – prices for the smallest vase start at 2000 Euro.
Edmund de Waal proclaims to be very happy with the visit while he extends one of his arms walking towards his guest through his studio. He is a slim and tall 52 year old man, the hair short, beginning to grey. A white shirt rolled up at the arms. He speaks with a soft, quiet voice. The artist is, in fact, quite similar to his vases.
In "The White Road" Edmund de Waal clears up any misunderstandings which could have ever existed concerning the material of porcelain. "There are shades of white without end", the artist says: "Look around!" His studio is large, but with several extensions and staircases. Artificial and natural light shines on various installations of vases in seemingly endless variations of white. In between suddenly a black installation. Upstairs in his work station with the potter's wheel are the vases he worked on this morning. Tiny, fragile little things. De Waal hands over a small chunk of Limoge porcelain clay: "Is this white?", he asks provokingly. True, yes, it would be whiter.
Before one could loose interest he diverts the attention to political and psychological aspects in the history of the material. "My new book is not about porcelain", he says almost defiantly, "my real subject is obsession. Why am I so fascinated by it? Why can I not stop working with it?" This generous and orderly studio does, however, not look like the work place of a haunted, tortured man. Rather of an artist who uses his obsession very productively. "i am in any case not alone with my passion. From the Chinese emperors to Himmler and Mao they all wanted to own this material."
During the war years SS-leader Heinrich Himmler expanded the porcelain factory Allach in Munich. Prisoners oft he concentration camp Dachau hat to produce kitschy Bambis from 1940 on, but also small Wehrmacht-soldiers, plates with SS runes or "Jul-Leuchter" – after all, the Nazis had replaced Christmas with the germanic winter feast of Jul. In January 1945 Himmler stopped the production of the lanterns and ordered more SS-plates to keep up the morale of the fighting soldiers.
Both as an author and writer Edmund de Waal always returns to the totalitarian trauma of national-socialism. In "The Hare" he described the incredible journey of the Netsuke, small Japanese mini-sculptures made out of ivory or jade, who stayed in the ownership of his family throughout highs and lows of the Ephrussi history. In "The White Street" De Waal tries to weave his research of a material he feels so passionate about into the context of world history.
Profil: "The Hare" has made you a world celebrity. Did this change how you look at the world – in particular on the art world?
De Waal: I find that very difficult to hear. I am exactly the same person as before. But I have been able to make exhibitions now because I am better known. For instance I am curating an exhibition in the Kunsthistorische Museum. I would not have gotten the opportunity to curate at this museum in Austria if I would not have written about my Jewish family history in Vienna. But the exhibitions I made have all been intensely personal. I bring my entire self, my experience to this work.
Profil. You say that your new book "The White Street" has little to do with porcelain. Did you want to explore the fascination of the White? The quest for purity? This obsession is certainly one of the big curses of humanity.
De Waal: Yes, it is profoundly dangerous. What I did not want to do is to write a book about lovely porcelain. It is not about how lovely Meissen is.
Profil: A rather nasty reviewer called you the "Messiah of Meissen"
De Waal: I hate Meissen. It is about what is the danger of purity. It is manyfold. It erases things, effaces things, it demands a lot. You look at the pain that purity has caused. White is dangerous from that sense, because of course the narrative is absolutely there about race, about purity. The book ends up, for God's sake, in Allau, in Dachau. The whole Reich thing about purity. About beginning again. It was clear that Heinrich Himmler would need some porcelain because it was part of the obsession to be pure. The Nazis had this kitschy side of classicism also, the little animals and people figurines. But that was a side step. White has been intensely abused.
Profil: You are shaped by the experience oft he Second World War, which brought parts of your family here. It seems that the British population in particular seems to have dismissed the memory of the Second world war by voting for Brexit and turning their back on the biggest peace project of European history.
De Waal: It is totally devastating. I am profoundly Pro-European. Walter Benjamin is so central for my work and for my thinking, he is the Wanderer between the worlds and he was destroyed by the war in 1940, because the borders of Europe remained closed for him. It is not a majority of British people who voted against Europe, please don't think that. I am not in denial about the result of the referendum. But I do not think that people understood that their country had to break away from Europe now. It is a toxic result. It will infect others. Look who congratulated Britain on the result of the referendum first: Marine Le Pen in France. The dangers which this unleashes in legitimizing right wing politics, abrasive nationalism. The hostility against foreigners is indescribably dangerous.
Profil: Is it dangerous for Europe or dangerous for Britain?
De Waal: It remains a disaster in every aspect. It is going to take 20 years to unravel all our agreements, laws, regulations with the EU and the world. My teenage children will have to deal with this process of sorting out this mess when they could be spending their lives on building something. I am looking at my own centre of gravity. Where is it – besides South London where I live and work. I work in Graz with Ai Wei Wei. I have an exhibition in Kunsthistorische Museum in Vienna. Of course we can all stay friends. But my children, who were citizens of the European Union by default have their future now taken away from them.
Profil: It's not that Austria does not face it's own political problem. We don't seem tob e able to elect a new president. Does it matter to you, what happens in Austria?
De Waal: The political situation in Austria scares me enormously. I did not think I would hear these rhetorics in Austria again, for generations they were gone. In the last ten years I have been saying around the world how extraordinary it was to find a new generation in Austria which properly put things behind them and really built bridges with other communities. I was genuinely surprised and glad about the fact that the book and I were so well received. I met so many over the past ten years who genuinely embraced my feeling about the importance of restitution of stories, of history. This is what the book really is about: The bringing back of the stories of lost families. About what was lost in the war. I have been very moved and affected by that. And now this!
Profil: People seem to think they have to retreat – into their village, into their small communities where they can shut out "the other". Is this the age of anxiety?
De Waal: Yes, there is huge anxiety. It is as you say the retreat into the family, the village and the need to hold those you feel for very close to you. It is of course not intentionally but the exhibition at the Kunsthistorische Museum is about anxiety. It is an extraordinary time for it to happen. I am very worried. We always had dangers in the world and we should answer it with more communication not less. Historically we know that those village boundaries, the city boundaries, the race boundaries – they have all failed. If you shut those the danger gets bigger not smaller. We need to work in the world to keep communication going. What is a boundary, a frontier other than a concept that failed?
Edmund de Waal in Austria this autumn:
"Die weiße Straße. Auf den Spuren meiner Leidenschaft", Zsolnay-Verlag. Book presentation in conversation with the author Philipp Blom September 28 at 7 pm at Palais Ephrussi in Vienna.
Geknetetes Wissen. Die Sprache der Keramik. Kunsthaus Graz, ab 24. September.
During the Night. Kunsthistorisches Museum Wien, ab 10. Oktober.